Wi-Fi & Mobile Phones
These days people may be quite used to having free access to Wi-Fi in every coffee shop and street corner in their home country, but things can get a little complicated when traveling overseas. The key is to be prepared, which means you'll want to decide whether to use your own phone, rent a SIM card, or rent a mobile phone before you arrive in Japan.
Don't worry about stepping outside of your hotel's Wi-Fi zone, because there are Free Wi-Fi Spots at several locations in Kyoto. While it may be less than you're used to, Kyoto City has recently stepped up to provide visitors with better Wi-Fi service all around the city.
How to Use Free Wi-Fi in Kyoto
Step 1:
Select "KYOTO Wi-Fi" in the network settings on your smartphone or PC, then launch your internet browser.
Step 2:
Read the User Agreement and select your preferred method to sign in: Facebook, Twitter, Google, or email address.
Important: By signing in you agree to the terms and conditions of the User Agreement.
---
Step 3:
Enter your login and password or your email address. If you use your email address, an email with a confirmation link will be sent to you. Click on the link to complete your registration.
Step 4:
You can now browse the internet at your leisure! Re-authenticate your connection if prompted by the system.
(As of April 2018)
TIPS
Check the KYOTO Wi-Fi webpage for detailed information about the service:
http://kanko.city.kyoto.lg.jp/wifi/en/
CONTACT INFORMATION
Tourism and MICE Office, City of Kyoto
488 Teramachi Oike, Nakagyo-ku, Kyoto, 604-8571 Japan
PLEASE NOTE:
Data transmitted through public Wi-Fi is not filtered or encoded and could possibly be intercepted. We strongly recommend using a VPN to secure your data. It is also best to refrain from inputting sensitive information such as passwords or credit card numbers.
How to Use Your Mobile Phone in Kyoto
1
First Ask Your Home Provider
If you want to use your non-Japanese mobile phone in Kyoto, we recommend contacting your home provider before leaving your country.
Many mobile phone providers cooperate with Japanese partners and allow roaming services with Japanese telephone networks for their customers.  However, be sure to investigate what your provider's roaming fees are, as they tend to be more expensive than you might expect.
---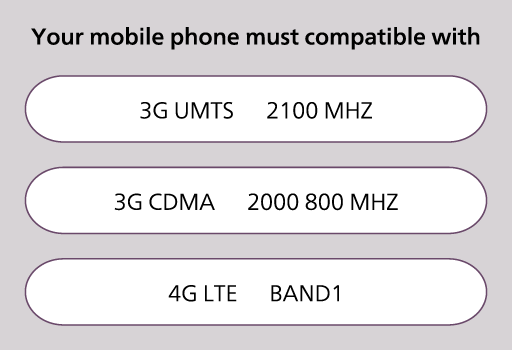 2
Check Your Mobile Phone Network Compatibility
GSM network phones will not work in Japan, so please make sure your mobile phone supports 3G and 4G networks. Even if it is compatible with 3G networks in your home country, some models may not work in Japan.
---
3
Rental Phones and SIM Cards in Japan
To avoid problems it may be better to rent a mobile phone when you arrive at the airport. There are usually several phone rental kiosks within major airports. You could also rent a portable Wi-Fi device, such as Pocket Wi-Fi, and use it for internet access with your smartphone.
Some Internet-based telephone service providers (VoIP) allow visitors from other countries to buy prepaid cards or SIM cards by sending in a photocopy of their passport and their hotel address for confirmation.
Call rates are different depending on the country you're contacting, so be careful of what costs you may be incurring. It may be safer to use free services like Skype or LINE through internet access such as KYOTO Wi-Fi.
Japanese Mobile Phone Providers
NTT DOCOMO
TEL:

From outside Japan: (+81) 36-832-6600




From within Japan (toll-free): 

0120-005-250 (English, Portuguese, Spanish, Chinese)
Business Hours:
09:00 to 20:00 JST
AU
TEL:

From outside Japan: (+81) 36-670-6944




From within Japan (toll-free):

 0120-959-472 (English)
Business Hours:
09:00 to 20:00 JST
SOFTBANK GLOBAL
TEL:
From outside Japan: (+81) 92-687-0025
From within Japan (toll-free): 0800-919-0157 (press "8" for English support)
Business Hours:
09:00 to 20:00 JST