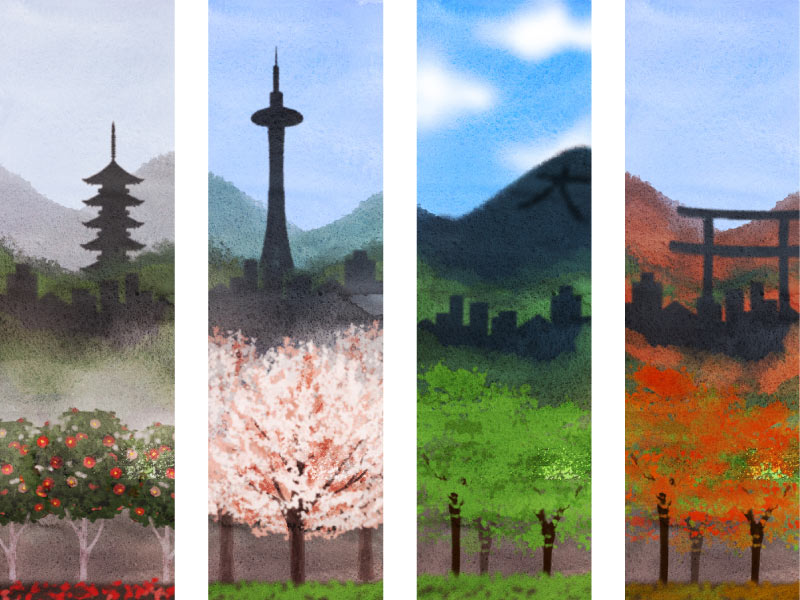 Best Time to Visit Kyoto
So you've decided to come to Kyoto!  We're excited you'll be joining us here in the ancient capital, but wait – when are you going to visit?  Considering everything the city has to offer in each season, deciding when to take your trip can be the hardest part of the planning process.  If you're wondering when is right for you, take a look at our recommendations and see what each month of the year has to offer!
KYOTO BY SEASON
Mid – Late Winter (Mid-January – Late February)
With the highest chance of snowfall, this season is your most likely choice if you're hoping to see Kyoto covered in pristine white.  Even if it doesn't snow, large camellia flowers and plum trees, once favored for flower viewing even over the now-famous cherry blossoms, begin to bloom and brighten the more bare winter landscapes with their white, pink, and red petals.  Located as it is in a valley surrounded by mountains, Kyoto weather can be cold in the winter months, so don't forget your coat and scarf.
Early Spring (March – April)
The period between February and the cherry blossoms blooming in late March is actually the least crowded season in Kyoto, so if you prioritize numbers you may want to come just before the sakura bloom.  Debatably the most popular and most beautiful season begins in late March with the cherry blossoms, which last until approximately mid-April depending on the location.  It may be crowded, but there's no doubt that Kyoto is at its best when the ephemeral sakura are at their peak.  The flowers may be blooming but it will still be colder in the mornings and after dusk, so you may want a light jacket or scarf.
Late Spring (May)
Even after the cherry blossoms have fallen, spring in Kyoto is still a delight to the senses with colorful gardens filled with iris, azalea, wisteria, and more.  May also brings with it aomomiji, fresh green maple leaves newly sprung from winter branches to turn Kyoto into a lush green paradise.  The climate in late spring is temperate with the occasional chill or warm day, and only requires sleeves or a light jacket.  April 29th – May 5th has a spate of national holidays called Golden Week, so be aware of a tourism surge during that period.      
Early Summer (June)
June in Kyoto is known as the beginning of the rainy season (tsuyu), when you can expect a higher chance of rain and bouts of humidity.  In return, however, Kyoto offers gorgeous water-loving lilies, hydrangeas, and other greenery.  Summer is the season of festivals in Japan, and June is just the start of the fun.  Make sure to get a hold of a raincoat, boots, and bug spray, and you'll be ready to conquer the potential rain to enjoy your trip.     
Mid-Summer (July)
July may be hot and humid in the Kyoto basin, but everyone tourist and local alike is energized by the Gion Festival, which sees various rituals, performances, and exhibitions throughout the month.  It's easy to forget while you're out having fun, but be careful of dehydration and heatstroke in the summer here, which you can combat by carrying water and resting periodically.  If you'd like to lose yourself in the heat and community fervor surrounding Japanese matsuri, pack your summer clothes and a fan to visit Kyoto in July!        
Late Summer (August – Mid-September)
August is Kyoto's hottest month, (so be sure to carry water and avoid exhaustion), but things start to cool off after mid-September.  The Obon festival, when Japanese traditionally welcome back the spirits of the departed, sees lots of Buddhist rituals and lantern festivities in mid-August along with the famous Gozan Okuribi signal fires on Kyoto mountaintops, and summer festivals are still going strong.  This is the month for fireworks and yukata, and spending your nights by the cool rivers.
Early Autumn (Mid-September – October)
Autumn creeps in and the days begin to cool down in late September, so you may want to bring long sleeves or a light jacket.  September is when various shrines and temples hold Moon Viewing festivals, and late October is when two of Kyoto's most famous festivals, the Jidai Matsuri (Festival of Ages) and Kurama no Hi Matsuri (Kurama Fire Festival) occur, so you'll be in for a traditional treat. 
Mid – Late Autumn (Mid-October – December)
The kōyō season, when the leaves turn and color Kyoto brilliant shades of orange, red, and yellow, is the other most popular time to visit besides sakura season.  With colder temperatures you may want a coat, and prepare yourself for crowds at the most famous fall color viewing spots.  There's no denying how gorgeous the kōyō season is, though, and autumn fire festivals will ward away the chill.
Early Winter (December – Mid-January)
Once December comes round it's time for Japan's version of "spring cleaning" as people prepare for trips to their hometowns for the New Year.  Piping hot winter comfort foods like nabe will keep you warm, and if you're lucky you might see some snow!  One thing you're guaranteed to see is illuminations, with lights twinkling in the night at some of the most famous spots in Kyoto.  Be advised that January 1st – 3rd does see a lot of businesses and city-run tourist sites like museums closed for the holidays, but instead take yourself to hear the New Year's temple bells ringing or try hatsumōde, the first shrine/temple visit of the year.