Overview
A private villa originally built by the Taisho Period statesman Yamagata Aritomo, one of the founding fathers of modern Japan, Murin-an is a scenic paradise tucked away between busy streets and larger famous sites.  Donated to Kyoto City in 1941 some years after Aritomo's passing, the villa has been preserved and is now open to the public.  Containing an absolutely lovely little pond and a stroll-type garden, the buildings on the property are a small teahouse, a two-story traditional structure that serves as the main building, and a Western style building converted into a museum of sorts that contains information and photos about the man who owned Murin-an as well as the garden's designer, Ogawa Jihei.  Most notably for history buffs, the second floor of this building contains the room where Aritomo and three other political heavy hitters sat down to discuss policy before the Russo-Japanese war in 1903.  Even if history isn't your thing, the garden is possessed of a beautiful aesthetic and sense of layers around a winding stream and waterfall that can make you completely forget how busy the world just over the garden wall really is.
The garden is possessed of a beautiful aesthetic and sense of layers around a winding stream and waterfall that can make you completely forget how busy the world just over the garden wall really is.
Features
Strolling Garden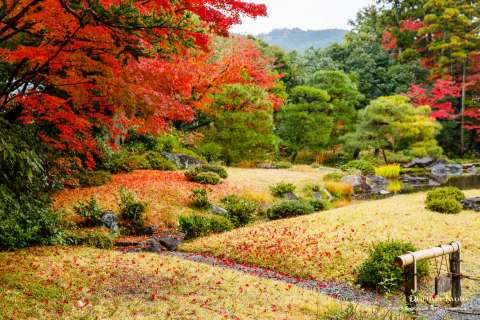 Designed by the acclaimed Ogawa Jihei VII, the sprawling garden of Murin-an is a gorgeous strolling type garden that sports wide, open spaces and incorporates the Higashiyama mountain range in to its background as shakkei (borrowed scenery).  Fed by water brought by canal from Lake Biwa in the neighboring Shiga Prefecture, Murin-an is divided by a meandering stream and features a waterfall as well as a teahouse amidst the trees.  Beautiful in shades of green as well as red, the garden is a wonderful place to relax whether you do so from the Japanese-style villa or by taking a leisurely walk.
Western Stateroom
As the owner of this estate was a prominent senior politician in the new and rapidly modernizing Meiji government, Murin-an was designed to blend traditional Japanese sense and newer Western concepts.  On the second floor of the Western-style home on the property is a stateroom with velvet chairs and paintings on the walls that is famous for once hosting political talks between Aritomo and three other powerful politicians before the Russo-Japanese war in 1903.  The dated feel of the late 19th century décor is an amazing contrast to the garden outside and offers a peek in to the divide during those times between the "old" and the "new", "east" and "west"
Garden Tours & Tea Ceremony
If you are interested in learning even more about the gorgeous grounds of Murin-an, various types of garden tours are available.  For visitors who would like to enjoy a quick, ten minute guided tour of the gardens, feel free to enquire at reception and enjoy being briefly shown around by Murin-an staff free of charge.  For those interested in a more in-depth experience, feel free to make reservations for either of the following tours, both of which offer English translators if needed. 
Guided Tour by a Garden Concierge
Time: approximately 60 minutes
Fee: 20,000 yen (10,000 yen if English translator is not required)
Special Guided Tour by a Garden Craftsman
Time: Approximately 120 minutes
Fee: 50,000 yen (30,000 yen if English translator is not required)
Murin-in also offers tea ceremony experiences that you can take part in to learn the steps and manners of tea ceremony before you indulge in a fresh cup of matcha green tea.  Participation costs 5,000 yen, and the course is available each Tuesday at 9:15, 10:15, or 11:15.
 For special garden tours or tea ceremony reservations, please contact Murin-an at murinan-yoyaku@ueyakato.co.jp. 
History
Under construction from 1894 to 1896, the history of the Murin-an villa and garden is tied to that of its creator, Yamagata Aritomo (1838 –1922).  An incredibly influential statesman and military leader, Yamagata was born into a lower ranked samurai family but gained power after the fall of the Tokugawa Shogunate and the rise of modernization and Westernization.  A member of the genrō, those considered to be something like the founding fathers of modern Japan, Aritomo's influence in politics carried him to several powerful positions, including two stints as Prime Minister. 
Said to have been a lover of gardens, in his "retirement" Aritomo began construction on the villa that would become Murin-an in Higashiyama, taking advantage of the newly constructed canal piping water in directly from Lake Biwa, which led to a surge in gardening in that area of town.  Though construction had to be put on hold for Aritomo to attend to a war in China, it was completed in 1896 with the design aid of the renowned garden architect Ogawa Jihei VII, also known as Ueji.  The villa was named Murin-an, and the kanji in the name evoke the image of a calm place without neighbors bordering up against it, which was said to have been an influence from Aritomo's countryside hometown of Yamaguchi. 
Still a political force to be reckoned with, Aritomo is said to have hosted numerous dignitaries and politicians at this retreat in his day, including a famous meeting called the Murin-an Conference of four politicians (Yamagata Aritomo, Friends of Constitutional Government Party Leader Hirobumi Itō, Prime Minister Tarō Katsura, and Minister of Foreign Affairs Jutarō Komura) to discuss diplomatic policy before proceeding into the Russo-Japanese War in 1903. 
After Aritomo's death the villa was eventually donated to Kyoto City in 1941 and thereafter opened to the public.
Access
Explore by Map
Address
〒606-8437 左京区南禅寺草川町31
Admission
General Admission: ¥410
Children (Before Elementary School): Free
Hours
General Admission: 09:00 - 17:00 (last entrance 16:30)
Closed: Dec. 29th – Jan. 3rd
Transportation
By Subway Tōzai Line

⇒ Keage Station

⇒ 7 minutes walking

By City Bus

⇒ Route 5, 57, 32 or 100

⇒ Dōbutsu-en-mae Bus Stop

⇒ 10 minutes walking
Gallery