Summary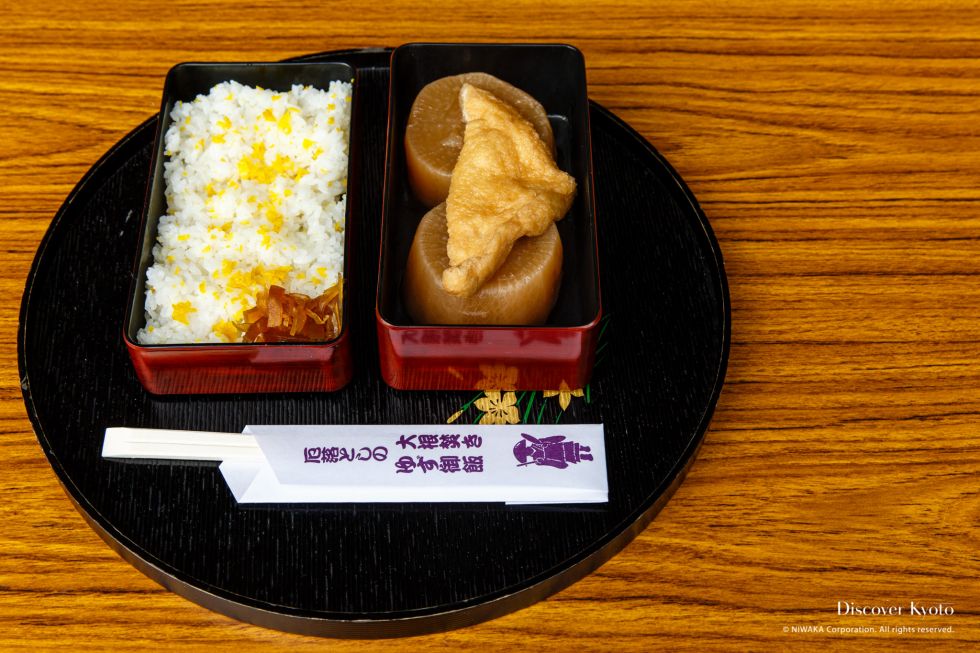 Are you familiar with daikon (Japanese radish)? This healthy vegetable is a staple in Japanese cuisine and can be found pickled, grated into soy sauce or salads, or simmered and boiled in broths and soups. In winter, many Buddhist temples across the country hold daikondaki ceremonies where they prepare and serve radish soup to their parishioners and visitors, and each one has its own reasons and style!
On the first Saturday in December, northwest Kyoto's Sanbō-ji temple holds its "Exorcism Radish" ritual. Sanbō-ji uses the daikondaki to celebrate the death anniversary of the Buddhist sage Nichiren, who founded their sect in the 13th century and propagated the Lotus Sutra as the true way to Enlightenment.
Hundreds visit the temple during this event to partake in a bowl of piping hot radish and Sanbō-ji's signature yuzu (citron) rice. 
Both of these dishes have a special meaning, as the daikon is blessed to prevent palsy, while the delicious yuzu rice comes from Nichiren, who encouraged his followers to partake of the fruit to warm the body in the winter months.
Throughout the day various rituals are held inside the temple's main hall, including a tea offering and a passionate recitation of the Lotus Sutra, in which the priests exorcise the participants with flint, sounding sticks, and sealing movements.
Things to See/Do
Festival Food

Buddhist Service

Exorcism
Schedule
Notice: As of 2021, the event has been suspended indefinitely.
2019 Schedule: 
November 30th:  Daikon/Yuzu Rice Serving Hours, 10:00 – 14:00
                         Exorcism Ritual (10:30, 11:30, 12:30, 13:30)
December 1st: Daikon/Yuzu Rice Serving Hours, 10:00 – 14:00
                         Oeshiki Memorial Service for Nichiren, 11:00
Access
Sanbō-ji
Address
〒616-8256 京都府京都市右京区鳴滝松本町32
Hours
General Admission: 09:00 – 16:00
Transportation